11 things you never knew you needed to survive in college
Checklist for College
05/05/2015
As you anticipate your freshman year of college, don't forget your dorm room essentials. You may think you have everything all packed up, but before you run away to college you may want to check these ten items off your list!
1. Hanging shelf organizer for your closet
Dorm room closets are often small, so cramming your clothes into one tiny, compact space for the next 8 months may seem like an impossible feat... but with a hanging shelf-organizer, you'll be able to cram virtually anything and everything into your closet — whether it be: shirts, shoes, sweaters, pants, or accessories, with this essential organizer, you can ensure that your closet space will be utilized to its fullest extent.
2. Electric kettle
There comes a time in every college student's career when you'll be up at 2am, starving, with 3 more assignments to complete. Well, have no fear... the electric kettle is near! One essential item that I never thought necessary to bring to college was an electric kettle, which is perfect for cooking up a late-night snack, such as: Cup of Noodles, Top Ramen, or instant oatmeal. Your kettle will also come in handy when making tea or instant coffee, for cold morning walks to class -- or movie nights in, when you're snuggled up watching Netflix.
3. Thermos & reusable water bottle
Thirsty but in a hurry? No problem! Keep your hot drinks hot and your cold drinks cold, by having both a thermos and a reusable water bottle handy. With your thermos and reusable water bottle, you'll be able to enjoy your coffee, tea, and water, on the go at all times!
4. Protein Bars
Protein bars (and protein in general) are necessities in college... and having a sufficient daily protein intake is important to maintain your overall health and wellness while away from mom's home cooked meals. That's why protein bars make for the perfect on-the-go breakfast or snack to keep you feeling full and energized throughout the long school day!
5. Emergen-C
In college germs are everywhere... and I mean EVERYWHERE. They're on every hand you shake, handle you turn, toilet you flush, and pencil or pen you touch. That's why every student should come to college equipped with a box of Emergen-c, not just for your daily dose of vitamin c, but more importantly for those dreaded days where you wake up and feel even the slightest of colds coming on.
6. First-Aid kit & over the counter medicines
There will come a time in college where you'll hit a wall, run-down from going out and tired of all the college festivities. At a time like this, it'll be helpful to know that you've come prepared. For cuts and bruises, sleep deprivation, headaches, and upset stomachs, make sure to have Nyquill, Benadryl, Advil, and Pepto Bismol handy in your dorm room at all times... take it from a college student, you won't regret it!
7. Costume clothing
College will no doubt be the best 4 years of your life, and many weekends are sure to be spent with friends, going out to parties, or to sorority and fraternity events, so make sure to over pack your costume clothing because you can never be too sure when a themed event may arise!
(See your local American Apparel store for further reference)
8. Mattress topper
Ever slept on the ground? Well, that's what a college mattress may feel like, unless... you come prepared with a comfy mattress topper. I'd recommend checking out a Bed Bath and Beyond store near you for affordable mattress toppers. In addition to the comfort aspect, you'll even get 20% off your purchase with their everyday coupons!
9. 2-3 large plastic storage bins
When dorm assignments come out, if you're lucky, you'll end up like I did with a room where you can physically touch your roommate while lying in bed. Spacious you might think? Definitely not. Often times, you'll end up in a coat closet style dorm and surely run out of space, so why not utilize the space you have with more storage? Bringing 3 large plastic bins was perhaps the best decision I made for my dorm room. For a year those three bins housed my random necessities that I just had to bring with me, my sweaters and sweatshirts, and most importantly-- my snacks!
10. String lights
There's no way to spice and brighten up a plain dorm room more than bringing a set of string lights! Think about all those times you'll be up late studying, Netflixing, and hanging with your friends in your room. Well, string lights make for the perfect atmosphere and allow you to escape the harsh light of the typical florescent dorm lights.
11. Power Strip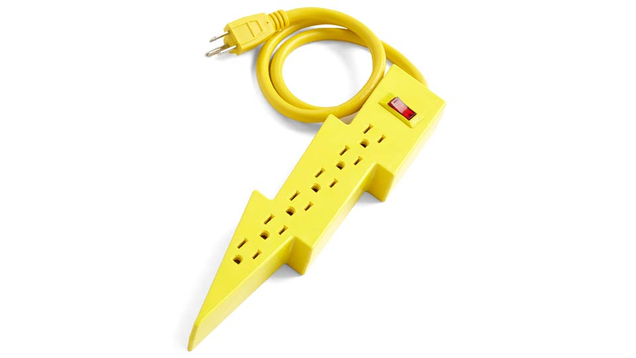 At one point or another, you'll find yourself fighting for outlets in your dorm. Typical dorms are equipped with only a few outlets, so you might as well "power up" and supply yourself with more! With a power strip you can finally plug in all your electric necessities into one condensed space!
For moving help try DormRoomMovers.com. They specialize in helping college students move so all you have to do is sit back and relax.